The Ultimate Brisbane Office Relocation Solution
An Office Removals Service Like No Other
Classic provides a total solution for all your office relocation needs which includes the following services:

Office furniture and equipment.
Professional pack / unpack service.
Specially designed padded bags to transport your computers and IT equipment.
Sequential pack / unpack of archives, files and libraries.
Dismantle / reassemble workstations, screens and partitions.
Dismantle / reassemble compactus units and shelving systems.
Safes and heavy equipment.
Removal of surplus items to secure storage or auction.
Warehouse and pallet racking relocation.
Storage facilities.
Computers And Equipment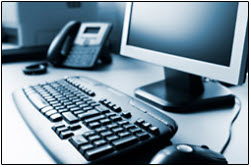 Computers & IT equipment are the lifeline of every business. That is why Classic have specially designed dust and shower proof padded computer bags.
The computers are placed into the appropriate sized bag (special separator monitor and keyboard bags) and then packed directly from the office desk into our purpose built cages system for transportation.
Your computers and servers are only handled twice from desk to desk during your office move to ensure all IT equipment arrives safely.
Caged Systems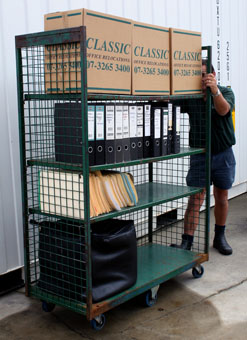 Classic Office Relocations have designed a metal cage system which is fully lockable, secure, adaptable and can be used to relocate computers, files, arch levers, library books and almost anything that is loose including contents of shelving and compactus units.
The adjustable shelving allows for sequential packing and unpacking of various sized items, files, books or archives. The cages are equipped with a wheel system for easy transport and loading by one person, resulting in a cost efficient move